You've decided to travel to the vibrant and always exciting city of Montreal. Now you need to figure out where to stay. Finding out where to stay in a new city can be overwhelming. Montreal has a few unique neighbourhoods that you can choose from depending on your plans and your budget. I've made a list of 7 of the best areas to stay in Montreal that you can choose to stay at during your trip. This list will hopefully help make your decision easier.
Old Port
If it's your first time in Montreal, you want to be sure to stay in or in close proximity to the Old Port. This will give you the opportunity to truly capture the European lively vibes of the city on foot.
The stunning historic neighborhood dates back to the early 17th century. Here you can walk by the waterfront and through the cobblestone streets to enjoy the architecture. In the Old Port, you will find museums, shops, and of course some of the city's best bars and restaurants.
There is no shortage of beautiful hotels and Airbnbs in the Old Port. Many of these are in centuries-old buildings and residences. The proximity of the Old Port makes it the best area to stay in Montreal.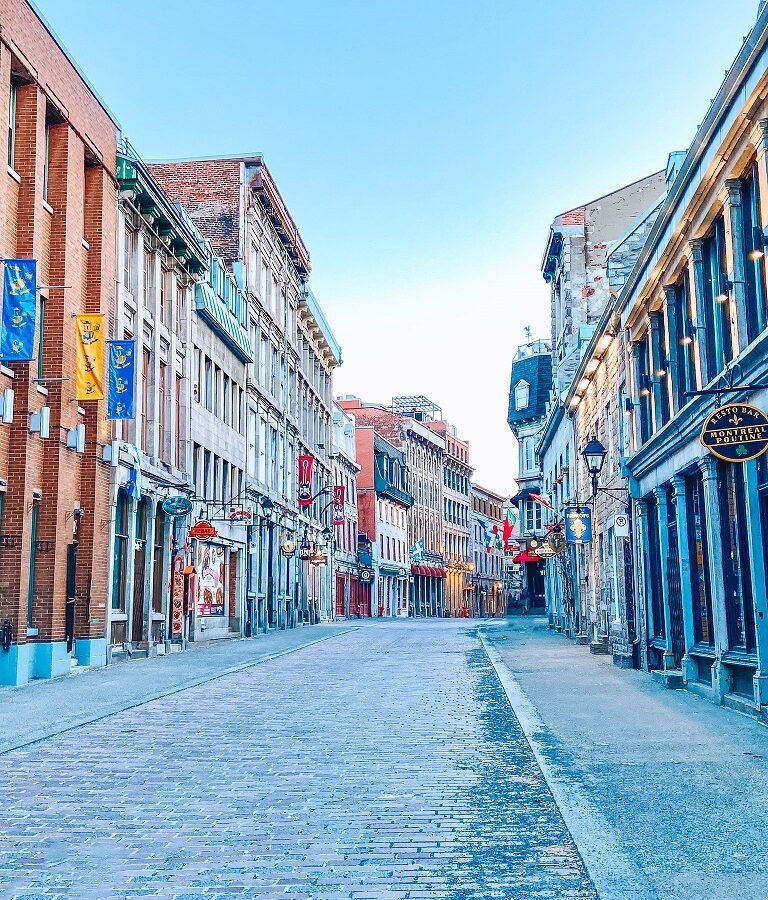 Luxury: William Gray – Right in the heart of Old Port where you can easily explore the Basilique Notre Dame and the charming streets of this neighbourhood. of Montreal. Enjoy the beautiful rooms, the luxurious amenities, the restaurant Maggie Oaks, and the rooftop bar Terrasse William Gray with wonderful views of the city.
Mid-range: InterContinental Montreal – In a perfect location, which allows you to experience Montreal, within walking distance from many different neighbourhoods. This hotel is conveniently connected to the underground city and it is just steps away from two metro stations.
Budget: Check out Airbnb for many budget options around this area.
Griffintown
If you are looking to be close to the action in Old Port but looking for something more budget friendly, you can opt to stay in Griffintown.
This area is buzzing with new developments and a great art scene. It is located along Lachine Canal, where you will find walking and bike paths. Some of the best restaurants and bars can also be found around this area.
Mid-range: Griffintown Hôtel – These apartment hotel rooms come with fully equipped kitchens and amenities that make you feel right at home. You can choose from the spacious 1 bedroom, 2 bedroom or even 3 bedroom suites.
Mid-range: Hôtel Alt Montréal – This is a very modern eco-friendly hotel right in the middle of all the action in Griffintown. It is only a few minutes walk from downtown and the Lachine Canal, and within walking distance of Old Montreal.
Village
If you're looking for a more vibrant area, the village may be the place for you. It is a well known area for the LGBTQ+ community.
You will find many fun local bars and clubs that you can enjoy. So, if you're looking for nightlife and to have some fun, this may be the area for you.
In the summer St. Catherine street, where the Village is located, becomes a pedestrian only zone. You are then able to walk around relaxed with no cars or enjoy a drink on one of the many terrasses.
Mid-range: Hyatt Place Montreal Downtown – Conveniently located hotel with everything you would need including a pool and sauna – Right next to Berri Uqam Metro Station making it easy to explore Montreal.
Budget: M Montreal Hostel – Located within a 2 minute walk from Sainte-Catherine Street and 5 minute walk from Berri-UQAM metro station. They havea  a shared kitchen and common dining area, it also features an on-site bar, an outdoor spa and an area to play billiards or table football
Le Plateau
This area is what Montreal culture  is all about; an older neighbourhood, with the classic architecture and bright coloured murals all around. In this area, you will notice lots of street art, cool shops, and many hip restaurants and cafes.
Fun fact: This neighbourhood has the largest number of artists per capita in Canada.
Downtown & Latin Quarter
If you're looking to stay in the heart of the city and if you like shopping, this is where you'll want to be. On Sainte-Catherine Street you will find a long stretch of stores, and there are also several shopping centers all connected with an underground network of corridors.
You will want to stay here if you like museums such as the Montreal Museum of Contemporary Arts or the Montreal Museum of Fine Arts.
Staying in this area will also let you easily catch shows such as the Jazz Fest or Just for Laughs festival at Quartier des spectacles.
Luxury: Fairmont The Queen Elizabeth – This hotel is conveniently connected to Montreal's underground city as well as the train station. At this hotel you can enjoy great service and some of best restaurants and bars in the city within it.
Mid-range: Best Western Plus Montreal Downtown – You can enjoy a comfortable stay at this hotel located right in the heart of the city.
Budget: Auberge Saintlo Montréal Hostel –  This is a great location for a hostel close to all the action. While staying here, you can enjoy the fully equipped kitchen, laundry facilities and daily activities that are offered.
Mile-Ex & Little Italy
This area is a bit further from Old Port but worth the visit or the stay if you want to be in a family friendly neighbourhood and get to some newer, more hip restaurants and coffee shops.
You will also find the famous Jean-Talon Market nearby.
Another great area where you can find wonderful fully furnished apartment in different budgets such as Wonderful Studio.
Check out Airbnb for more options.
Saint-Henri & Little Burgundy
If you are looking for a more laid back area that's still close to the Old Port, then you can stay in one of these areas.
These areas have recently been developed and boast many restaurants and bars that are becoming more popular.
In these areas, you can be close to the Atwater Market and Canal Lachine, where people spend time picnicking and enjoying the bike and pedestrian paths in the summer.
These are some of the neighbourhoods that are most popular and most convenient for visitors. There are other neighbourhoods that may be more convenient or budget friendly if you have a car or if you are comfortable with a longer commute. 
Which neighborhood would you stay in? Did I miss any other neighbourhoods that you would recommend?